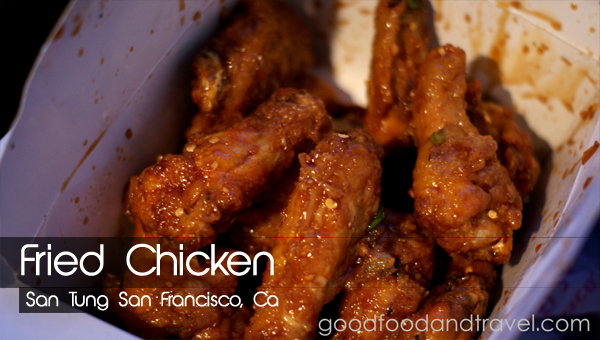 I love chicken! Especially fried chicken wings. Who doesn't?
For a while, one restaurant remains on top of it all when it comes to their chicken.

With over two thousand reviews on Yelp, people just can't seem to stop raving about San Tung's (located in San Francisco) fried chicken. Mixed with their special sauce that consist of a blend of honey, ginger, peppers, and various spices, the chicken wings are irresistibly good. Not completely soaked in sauce, crispy on the outside, and soft on the inside, the consistency is just too perfect.
San Tung has great chicken but there is one slight problem though. As you would imagine, such a popular joint has many loyal fans. The wait for a table can be quite long, especially on a Saturday night. After waiting for over 15 minutes ,  the queue of 10 tables before us barely moved and we decided to give up but not without our chicken. Instead of waiting for perhaps another two hours for a table, we ordered take out and dined in the car. I thought this would never work but luckily this stroke of genius pulled through and we were able to enjoy these delectable wing in no time.
Buffalo Wild Wings used to hold back my inner beast that is the desire for good chicken but after experiencing San Tung's chicken… Sorry, Buffalo Wild Wing's chicken wings…I've changed and my heart is no longer with you my dear. My deepest apologizes, it's me not you, it's me…