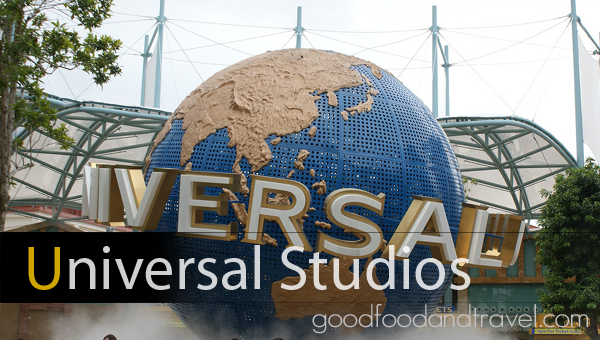 What's a place that can get your adrenaline pumping and satisfy your needs of good entertainment? If you guessed Universal Studios, Singapore you are right! Like the other Universal Studios themed parks around the world, the Singapore property has all the bells and whistles. Its fair share of intensely thrilling rides will get anybody's blood pumping. And the more moderate rides will appease the children in the party. What more, the less thrill seeking campers can just enjoy the entertainment at the various theaters and stadiums.
Upon entering, you will be greeted with the magical transformation of an entirely different scenery.
Walking around are the stars of mainstream movies. Grab a camera and create some lasting memories with PO (Panda) from Kung Fu Panda.
Frankenstein.
Far Far Away castle from Shriek.
Shriek 4-D adventure at the theater. In a 3-D movie, the  animations come alive. 4-D add a whole dimension to that…literally. By making the theater seats motion rigged and setting up sprinklers that spray at you through appropriate times in the movie, you feel like you are actually in the movie!
Soar in the skies as you fly through the park on this canopy flyer ride. You will get a bird's eye view of the park.
The Discovery Food Court featuring numerous local favorites.
Nasi Lemak, a Malaysian dish that contains a chicken wing, otak otak (fish cake), and ikan teri (fried anchovies). Probably not that authentic since we are in a tourist spot but it is pretty darn good.
Hop onto a kart and experience the life of Treasure Hunter.
The ride is really moderate and designed mostly for the younger children. The props are less than thrilling and very "cartoony."
To end to adventure, we escaped to Water World an aquatic spectacular with exciting pyrotechnics and incredible action scenes.