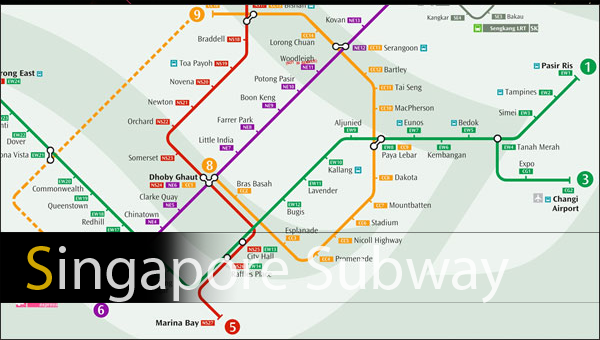 I love the Singapore Subway System! They call it the MRT (Mass Rapid Transit) and it really resembles the subway system in Hong Kong that is oh so easy to use.
As a tourist traveling around the country for the first time, I found the subway system to be extremely helpful in finding the places I wanted to go to. Whenever I wanted to get to my next destination, I just asked for directions to the nearest subway station. From there, getting to anywhere is easier than pie.
The subway system can take you around almost anywhere in the country. Best of all, most points of interest are within walking distance of the stations.

To gain access you would first need a ticket. Just hop on over to one of the automated machines where you can buy one.


Here is a one time use ticket, but for those of you that are going to be traveling around for the next few days, consider purchasing a tourist pass. It allows for unlimited public transit usage for a number of days. (Price varies for different duration)

The subway is finally here! Waiting time varies depending on the line. Obviously busier lines have more frequent service.


The map inside the subway tells you where you are at/going. Some of the maps lit up but I guess this one didn't.


Does your home city have a subway system? And are you loving it or hatin' it?