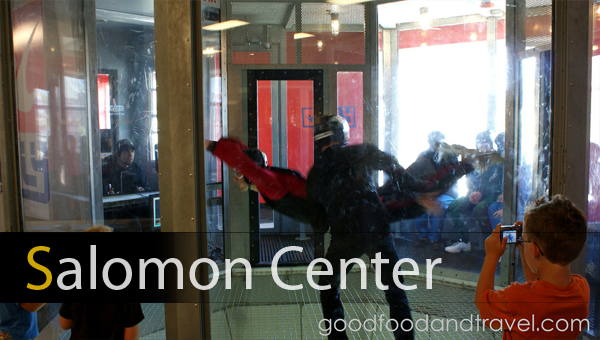 Help me! I woke up today with an extremely strange craving for adventure and thrill. If there was only a place where I can go bowl with my friends, rock climb, indoor surf, and (fly?) all in one convenient location, my incredibly strange cravings will be satisfied!
Oh boy are you in luck… I know exactly the place where you can do all that…and more!
Did you say more?
Yes! How about a place where you can do all those and on top of that dance away at Dance Dance Revolution in the arcade, bump your spinal cord out of place at the bumper car ring, and lastly tone your oh so perfect body at the gym all conveniently under one roof.

Salomon Center in Utah has it all.


Bowling.


Arcade.


Bumper cars.


Indoor rock climbing with multiple mountains for climbers of different skill levels.


So far pretty standard stuff right?


How about an indoor surfing platform. This machine simulates waves and allow you to do some surfing indoors. If the outdoor wave machine isn't working in your favor, catch a wave inside.


As a beginner, I would imagine that it would take some getting used to.


But once you get the hang of it. It's really fun.


Last but not least, the craziest of all. Flying…
The way it works is really simple. You just get into the air-tunnel and "fly."
A technician outside can control the airflow inside the air-tunnel allowing you "fly" at different speeds and levels.


I didn't get a chance to try it out but I am guessing the experience is closely related to that of skydiving.
Wow…that is a lot to do all under one roof. Which activity at Salomon Center interests you the most?