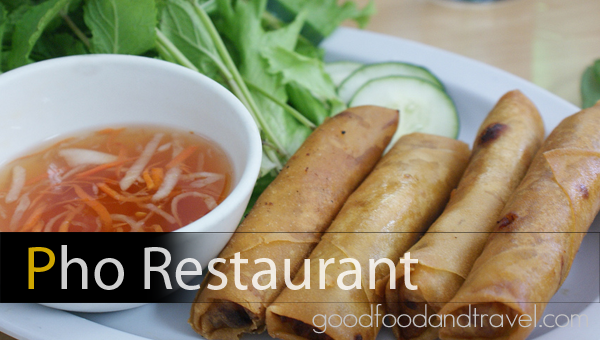 What you see above is (obviously?) not pho. It's actually deep fried spring rolls, which is a great complimentary dish to pho.
So what is pho? Basically, it's a Vietnamese dish that consists of rice noodles and raw meats in warm savory broth. Raw meats? That's crazy…or is it?

In your everyday pho restaurants you will notice a few condiments to the side of the table. Here you will find your soy sauce and sriracha sauce (A hot sauce that originated in Thailand.)


Before the pho arrives, you will most likely be given a helping of culantro, basil, lime, and bean sprouts. They are usually raw unless you tell the waiter that you don't take raw veggies too kindly. By all means ask for the veggies to be taken for a nice quick hot bath of boiling water.


When the noodle arrives you will see a bowl of noodles topped with raw slices of beef. Don't worry though, a stir will insure that the thin slices of meat will be ready for your enjoyment.


You may notice that every table is marked by a great big number. Let me explain… It's actually all part of the escape plan. With our busy lifestyle we can't be bothered to wait for the waiter to bring us the check (That can kill a precious 5 minutes.) Instead just remember the number marked by your table and hop on over to cashier counter. Simply state your table number (5 in this case)-in a fast pace manner as if you actually have something important to do if you will. Pay your dues and be on your way.