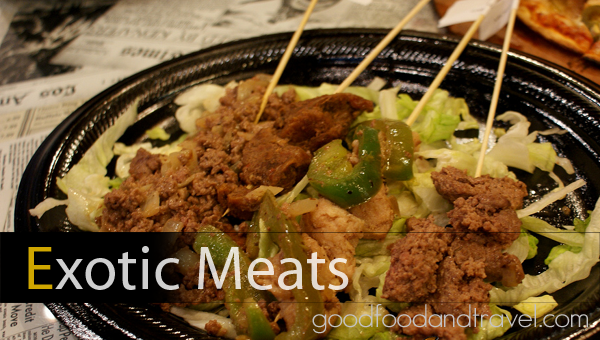 For lunch, how about some ostrich, turtle, alligator, or kangaroo meat? Is it all that weird? I don't know. Perhaps…it really depends on which region you are from.

Luigi Ortega (Pasadena, Ca) serves some pretty weird dishes. A look at the menu may leave you pondering "which item do I want?" The turtle or the kangaroo? It's pretty hard to decide.
If you aren't adventurous, they have some traditional items like chicken. However, that's not what I'm here for.


I wanted to try all of the meats so I ordered the sampler.
From left to right: Ostrich -> Turtle -> Alligator -> Kangaroo


A closer look at the alligator.


And the turtle.
Since describing taste isn't easy, I won't even bother. (Don't believe me? Try explaining how chicken tastes like to a vegetarian that has never eaten it before.)
I will however tell you that the kangaroo tastes a lot like hamburger meat.
Anyways, I'd say try it yourself!
So, do you think these meats are exotic? If so, would you give it a try?