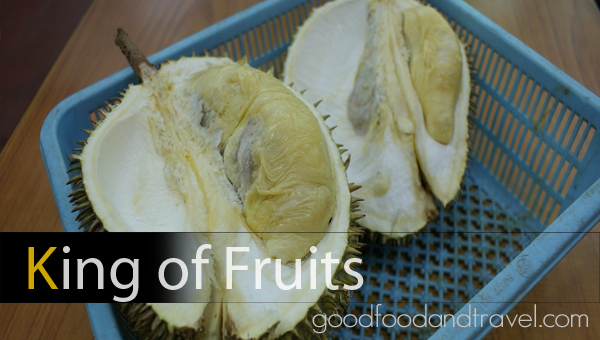 Have you ever eaten a fruit so pungent that eating it in public will bring about rallies of stares and frowns? I am talking about the king of fruit, durian. Mostly found in Southern Asian countries like Malaysia and Thailand, durian has a mace like appearance and a smell unlike anything else.

In order to satisfying our cravings, one late night in Singapore my group of buddies searched far and wide for a durian stand. After a some asking around we found this stand.  Durian heaven! Just look at the stall stacked mountain high.


A decently sized durians can run anywhere from a couple of US dollars for the average ones to roughly 30ish dollars each for the "higher end" one. The difference is the color, texture, and taste. For a good durian you want the meat to be firm and sweet.


There were tables in front of the Durian stand so it was quite convenient. Without a moment to spare we told the server to crack it open for us to enjoy right after we decided on the piece of fruit.
To be honest, durian isn't really for everyone since the smell is so strong but those that can take it sure do enjoy it.
Is durian your cup of tea?