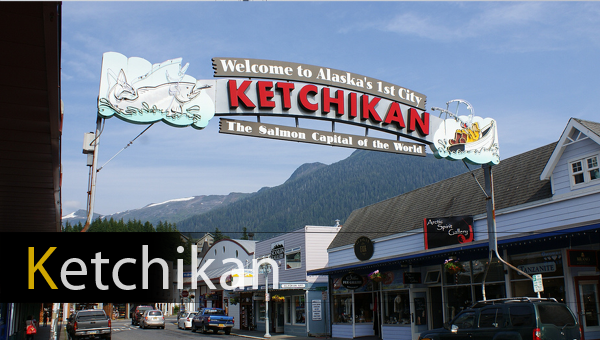 Ketchikan. The sign says Alaska's first city and the salmon capital of the world. Signs don't lie right? So I'll just go with that.


View of Ketchikan from the ship. Look at all those buildings! They are all different colors. I wonder if they had a meeting where they decide on the color of everyone's houses. So your house color doesn't collide with your neighbors' of course. Seriously…no adjacent house share the same colors.


The city is pretty small so one glance is all you need.


A peek inside a gift shop.


Some totem poles.


Moose droppings and bear poop. Sounds delectable? I'm not sure what they are but my best guess is chocolates? Cookies? What's your take?


An ulu is some sort of native knife I'm assuming.


Samples of various snacks including fish breath mints which I hear makes any unattractive loser into an instant ladies-man.


A boat/car. Half boat, half car. It drives like a regular road vehicle but can also be used in the water where there are apparently ducks.


The thing about cruises is once you get off you have many choices. The duck tour probably doesn't make a dent in your wallet but a 15 minute sea-plane ride will set you back a good 200 dollars. Money well spent. I thought about hopping on one but decided not to.


Instead, we took a tour that including viewing totem poles.


And buying syrup from a nice lady in the middle of no where. Beats the sea-plane tour any day of the week.


At dock, we saw a bunch of guys fillet a fish after an adventurous fishing expedition.


Headed back to ship for dinner. Dinner includes three S's. Strange.


Soup.


Scallop.


Sorbet.