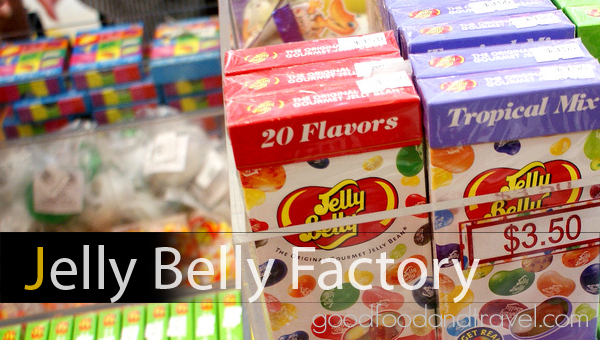 A wonderland of sugar and sweets. That is exactly what Jelly Belly Factory in Fairfield, California is. Here you will find a gallery of amazing confectionery delight. After touring the factory(for free) you can help yourself to the endless variety of treats. (Well…if you have a huge wallet that is.) Prepare to fork over some major dough as you enter the doors of this establishment.

This large blowup figure marks where all the sugary treasures are hidden.


The Jelly Belly building houses not only the factory and gift shops, there is also an ice cream station


…and a cafe.


Here we find a candy machine that dispenses  Jelly Beans.


Just insert quarters, choose your desired flavor. The truck will then move into place right below the desired flavor where the beans are dropped and carried to the dispensing outlet.


More machines.


For those that are interested in a bargain, flawed beans (known as belly flops) are sold here for incredible great prices. The flavors are assumed to be the same.


Here you can try any flavor you desire. 3 Maximum.


The main attraction is the factory tour. Before entering, one must put on this hat which is given to you for free. (Sadly, no pictures of the factory tour was taken, as it wasn't allowed)


After the tour, everyone receives a free bag of jelly bean. Awesome!


The factory tour ends at the gift shop.


Huge, shake hands, or take a picture with Mr. Jelly Bean?