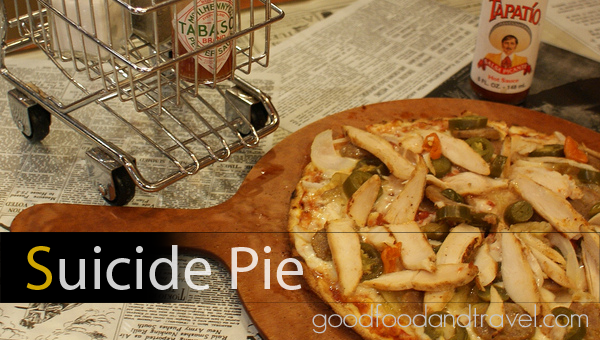 If you are looking for a spicy meal that you will remember for years to come,  you've come to the right place. Dr Death's suicide pie packs the powerful punch you crave.  In the previous post I've talked about Luigi Ortega's exotic meats sampler , but how does their pizza concoction stack up?

Such pizza consists of chicken, sausage, jalapenos, and habanera.


In all fairness, the pizza is not that spicy (alone.) Add in some suicide sauce and now we're talking. (The suicide sauce is shown in the background)
I made the mistake of taking it too lightly, squirting huge amounts on the pizza. Before long, a whole slice of pizza was topped with the stuff. Let me tell you…it makes Tabasco and other hot sauces a big joke. It was so spicy I got more stuffed from the gallons of water I drank afterward than the pizza itself. Biggest mistake of my life…the sauce is super spicy and it last forever! The disappointing part though is that the suicide sauce was just really really damn spicy. It's not a good tasting type of spicy like jalapenos.