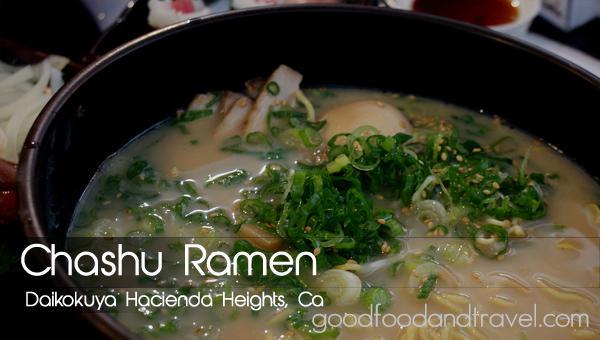 Chashu is basically the Japanese version of Chinese Cha siu.(Marinated pork in special sauce)
To try one of the best, I visited Daikokuya (Hacienda Heights, Ca.) They also have locations in Little Tokyo, Monterey Park, and Costa Mesa but those locations are known to have hellish waiting times.
Many rave about Daikokuya as having the number one chashu ramen in Los Angeles. That probably true, if not…it's probably pretty damn close.


Though the menu says "not your average wiener" ,with regret I have to say it's pretty disappointing. And is that ketchup?


The tuna rolls were small physically and taste wise. I'll admit the rice was pretty soft though.


The appetizers weren't exciting but that's fine. The chashu ramen composed of fatty pork meat, chijire style eggs, and crispy ramen made it all worth the while. The chijire egg was an experience itself. Being half cooked and half raw gives the egg a taste of simply perfection.
Would I come back? Definitely.